NEW DELHI/MUMBAI: Zydus Cadila's India-developed anti-Covid jab ZyCoV-D secured regulatory approval on Friday for emergency use, becoming the world's first DNA-based vaccine for the novel coronavirus that will be administered to children above 12 years and adults.
The company has indicated a supply of around five crore doses by December, a senior official said. The delivery of vaccines is likely to begin by next month-end. The DNA-based vaccine is the sixth shot to receive approval in India.
While the government is yet to sign a final agreement with Cadila, supplies to the national programme are set to be augmented.
To start with, the company will supply around one crore doses in a month. Pankaj R Patel, chairman, Cadila Healthcare, told that the vaccine showed 66% efficacy against moderate Covid infection and 100% against severe Covid, preventing serious disease and hospitalisation. The clinical trials were conducted on over 28,000 subjects, including kids, and were done when the Delta variant was prevalent across the country. This has been the largest vaccine trial so far in India for Covid-19.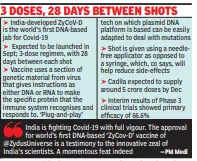 According to the WHO, DNA technology is a radically new approach to vaccination that involves direct introduction of a plasmid containing the DNA sequence encoding the antigen (in this case the Covid virus) against which an immune response is sought. "This approach offers a number of potential advantages over traditional approaches, including stimulation of both B and T-cell responses, improved vaccine stability, absence of any infectious agent and the relative ease of large-scale manufacture," says the WHO.
The three-dose Zydus vaccine, developed in partnership with the department of biotechnology, has been approved with a dosage cycle where the second and third shots will be administered at an interval of 28 days and 56 days, respectively, from the first dose.
Among the other vaccines in use in India, Covaxin's overall efficacy is 77.8% while Covishield has a proven efficacy of 70% in India. Sputnik V demonstrates 97.6% efficacy. Till now, the vaccines, which are in trials or approved globally, use either the whole virus (Bharat Biotech), protein subunit (Novavax), viral vector (AstraZeneca/ Serum and J&J) or messenger RNA (Pfizer and Moderna) technology platforms.
The Zydus shot is a needlefree vaccine administered using a special device "Pharma-Jet", which ensures painless intradermal vaccine delivery, the company said. The company plans to manufacture 10-12 crore doses of ZyCoV-D annually, and has started stockpiling the vaccine.
The platform, because of its rapid plug and play technology, can be easily adapted to deal with mutations in the virus, such as those already occurring, it says.
"This is a historic milestone with ZyCoV-D, a product of Indian innovation becoming the world's first DNA vaccine being offered for human use and supporting the world's largest immunisation drive. We're happy that our vaccine will contribute to this fight against Covid and enable the country to vaccinate a larger population," Patel said.
The approval assumes significance as it will not only help the government ramp up vaccination but also play a crucial role in immunising children between 12 and 18 years once supplies improve going forward.
Apart from the DNA-based vaccine, Covishield, Covaxin and Sputnik V are available in India, whereas vaccines developed by Moderna and J&J have also been approved with emergency authorisation.