New Delhi: There are as many as 55 long-term effects of Covid-19 that affect the body, with fatigue being the most common symptom among recovered patients, according to researchers who reviewed existing studies on the virus.
For a study, published in the journal Scientific Reports, researchers screened as many as 18,251 publications, out of which 15 studies were selected for final analysis.
An international team of researchers included eight studies from Europe and the UK, three from the US and one each from Australia, China, Egypt and Mexico for the study, published on 9 August.
The number of patients that were followed up in the studies ranged from 102 to 44,799. Adults ranging from 17 to 87 years of age were included in them and the patient follow-up time ranged from 14 to 110 days.
Ten studies collected information from the patients using self-reported surveys. Two studies collected data from medical records and three by clinical evaluation. Six out of the 15 studies included only patients hospitalised for Covid-19 while the rest of the studies used mixed data from mild, moderate and severe Covid-19 patients.
In total, the study identified as many as 55 long-term effects associated with Covid-19 and most of them corresponded to clinical symptoms such as fatigue, headache, complete or partial loss of smell (anosmia) and joint pain.
However, along with these, diseases such as stroke and diabetes mellitus — metabolic disorders that cause high blood sugar levels — were also discovered.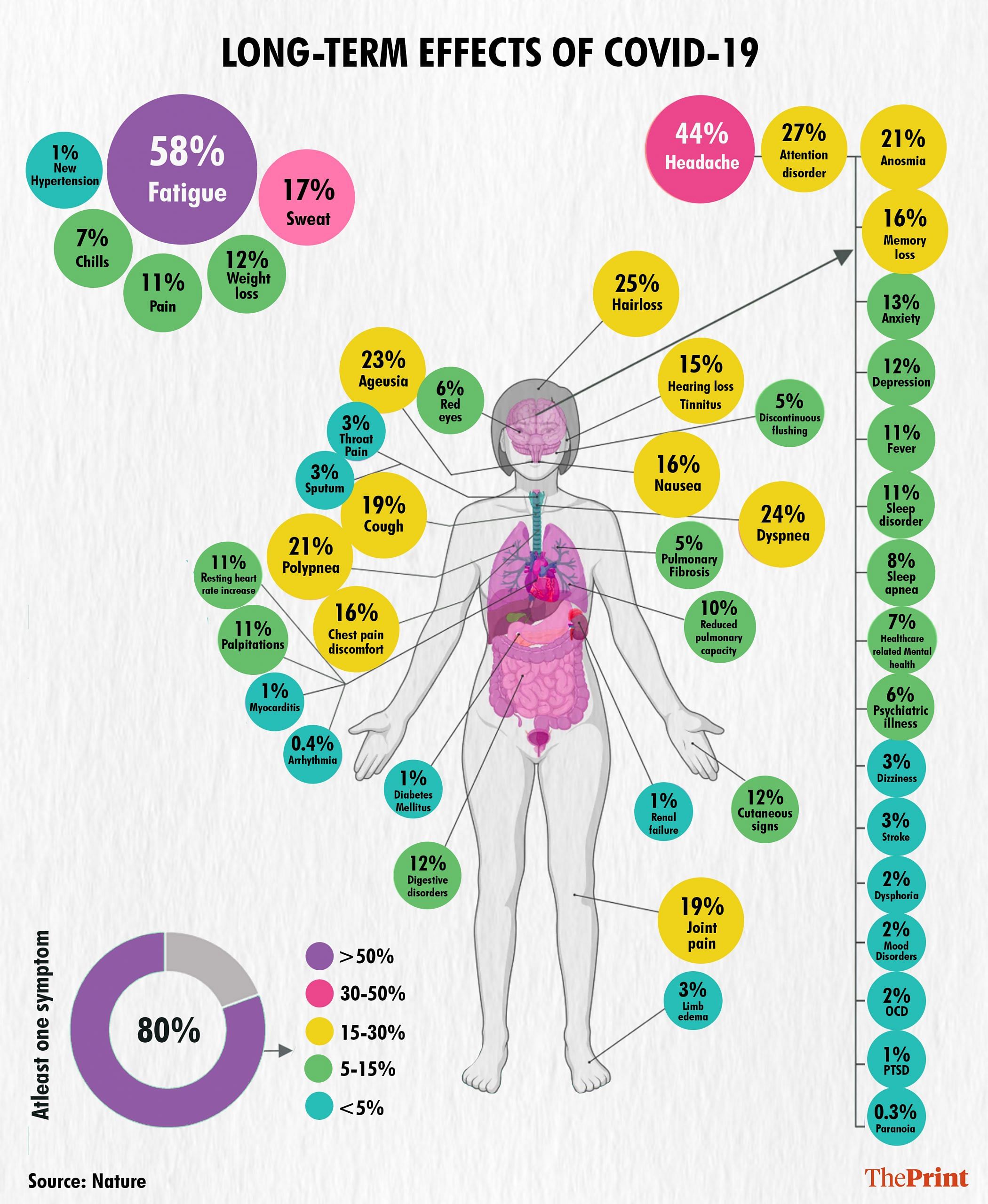 58% recovered patients suffered fatigue, 44% got headaches
According to the researchers, fatigue was the most common long-term effect suffered by people who had recovered from Covid, with 58 per cent patients reporting it.
Meanwhile, 44 per cent of the patients suffered from headache after recovery. Attention disorder and hair loss were also reported by more than a quarter of those who had suffered from Covid.
Other long-term symptoms were related to lung disease such as cough, chest discomfort, reduced lung capacity, sleep apnea (when breathing is interrupted while sleeping) and pulmonary fibrosis, which refers to lung diseases that affect the respiratory system.
Patients also reported cardiovascular symptoms such as arrhythmias (irregular heartbeats) and myocarditis (heart tissue inflammation, usually caused by viral infection).
Neurological symptoms such as dementia, depression, anxiety and obsessive-compulsive disorders were also some of the long-term effects suffered post-recovery.
The study noted that 15 per cent of the participants reported experiencing hearing loss or tinnitus — a buzzing noise in one or both ears.
The research further showed that 80 per cent of the individuals with a confirmed Covid-19 diagnosis continued to have at least one of the effects two weeks after acute infection.
In total, 55 effects — which included symptoms, signs and laboratory parameters — were identified, with fatigue, anosmia (loss of sense of smell), lung dysfunction, abnormal chest X-ray or CT and neurological disorders being the most common.
The researchers also noted that other effects may not yet have been identified. They said that further studies are needed to understand each symptom separately and in conjunction with the other symptoms. The reason why some patients experience long-term symptoms after Covid-19 remains uncertain.